Aug
7
What an awesome week of RinkRat 19 Hockey School in St. Paul. Robin and I enjoyed the company of 53 young kids and a handful of phenomenal coaches. It was our 4th year running the cities camp and each year it has grown tremendously.
Without a doubt, I will always remember this camp for the never-ending smiles and laughter. It was so enjoyable to see the kids waiting on the benches, desperately hoping the Zamboni would hurry up! Those times, waiting to hit the ice, were definitely my highlight of camp. Whether I was listening to their hilarious stories or hearing what career they wanted to pursue; it was fun developing a relationship with the kids. For example, I had the greatest conversation with a camper who will study neuroscience when she grows up. Her reason for studying it blew me away: to understand why people make decisions. Then she began sharing her faith and how that applies to decision making. She's 12.
Another great area of camp was our coaches. Kathy, Jeannie aka "Captain Awesome," Ben, Sophie, Meghan, and Lee poured so much energy and enthusiasm into teaching. Plus, how can you not love skating with a couple National Champion Gophers?!?
Thanks again to everyone involved in making this camp a huge success. Enjoy the rest of your summer and we look forward to skating with you at next year's camp!
Jul
12
The 6th Annual RinkRat 19 Hockey School welcomed 87 kids to Hockeytown, USA. We had 30 cities represented throughout MN, ND, and WI.
The first day of camp is always exciting and this year was no different…the check-in line went out the arena door and onto the sidewalk! What a blessing to walk in and see so many kids waiting for their RinkRat 19 jersey, helmet sticker, and gift bag.
Our schedule of on-ice and off-ice training is challenging; however, the kids didn't shy away from the hard work. They embraced the fatigue and muscle soreness. The entire coaching staff was blown away by the encouragement, energy, and positivity the campers displayed throughout the week.One parent said it best, "Thanks for another GREAT camp. Our kids had sore legs from the drills and sore faces from the constant smiles!" That is the epitome of camp: working hard and having a blast doing it.
The last day activities are always a camp highlight. From the full-ice game to the water balloon fights to the picnic to the awards banquet…nonstop smiles and laughter.
We love putting on this camp every year, we love the game of hockey, and we are passionate about helping others elevate their game. Thank you to all the kids and parents who traveled to Hockeytown, USA, thank you to our entire coaching staff, and a huge thanks to our family. What an amazing week! Safe travels and see you all next year!
Jun
14
June recognizes Marietta Geist as the RinkRat 19 Hockey School camper of the month. How awesome is her bio! Pianist, track star, swimmer, and a wiz with the numbers. I think it's amazing when kids are blessed with so many talents and put them all to use. Instead of focusing on a sole activity, she's thriving in many. Making the most of every opportunity is clearly a great trait of Marietta's. Each year she has done a fantastic job of applying what she's learned from the RinkRat 19 staff to her own game. Her growth as a hockey player has been great to witness. Have a great day and check out Marietta's story: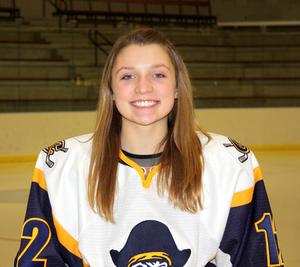 Jersey # – 12
Favorite hockey player – Wayne Gretzky
Stick – Bauer Vapor 60 extreme
2012 Olympics – I'm looking forward to watching the Olympic track and swimming events this summer
Other fun facts – I enjoy playing the piano, track, math, and swimming. I have participated in the state piano competition, state Math Counts competition, and the 2012 state class A track meet where I placed 8th in the 1600 meter run.
I have been to the RinkRat 19 camp for 3 years and I really enjoy it. It's fun coming back and seeing friends from past years at camp and making new ones. I love coming to Warroad every summer and having a whole week set aside just for playing hockey. The coaches work us hard and make camp fun. I've learned lots at Rink Rat 19 and I can't wait to learn more.
This was my first year playing on the varsity team for Crookston. We were a young team with several 8th graders playing on the team and it was a building year for us. I'm looking forward to next year when we all will have a little more experience under our belts.
Thanks,
Marietta Geist
Jun
2
Trechelle Bunn is recognized as the camper of the month for May 2012. Trechelle (and her huge smile) has been a constant at RinkRat 19 Hockey School. A fun fact: she lives in Canada but cheers for Team USA…thanks for following our team and cheering us on!!! Trechelle is such a kind, cheerful kid to be around and has improved tremendously every summer. Last year she took home the RinkRat 19 award for embodying the meaning of "rinkrat." Enjoy getting to know the May 2012 RinkRat 19 camper of the month!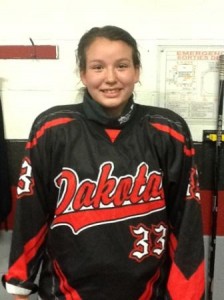 Name: Trechelle Bunn
Favorite Hockey Team: The Winnipeg Jets
Favorite Hockey player: Dustin Byfuglien
Stick: Reebok 12K stick, left
Position: Defense
In the London Olympics I look forward to watching Usian Bolt because I run the 100m and 200m and never lost a track meet!!!!
I was born in Roseau Minnesota but live in Wampum, Manitoba, Canada, and go to school in Sprague, Manitoba, Canada!!!
My dream is to play in the Olympics one day for Team USA like Gigi!!
In the Summer I enjoy doing the Lamplighter fill the net challenge, Swimming and doing Triathlons!!
For the Stanley Cup I am going for the New Jersey Devils!
This year I played my first year of 12U with Warroad 12U.
One of my favorite camp memories was getting the RinkRat award and believe it or not doing stairs!!!
My hockey number this year was #3 but usually I prefer #33 because of Byfuglien and because I was born on March 3rd!
I've been skating since I was 2 years old and I started playing hockey when I was 6 Years old so I've been playing hockey for 6 Years!!
And this year I played In the Manitoba Indigenous Games!!
I also played spring Hockey this year with the Sioux Valley Dakotas!
Apr
2
This addition of the RinkRat 19 blog is brought to you from Lake Placid, NY. Team USA is training here in preparation for the 2012 World Championships in Burlington, VT. Our first game of the tournament is April 8 against Canada. Anne Schleper (another RinkRat 19 coach) is also on the team and you can follow us at usahockey.com.
To get you warmed up for rooting us on at Worlds, send out a cheer to Haley Ravndalen: April's RinkRat 19 Camper of the Month. As you read Haley's comments, you'll notice that she never once mentions her ability, skill, or accomplishments. "Let another praise you, and not your own lips" is a quote that many try to live out and here's a young kid who already embodies this statement. Let me step in then and praise her: great skater; constantly improving her skills; hard worker; huge potential; annually up for Most Coachable award; makes fast friends with fellow campers; kind, caring, honest; and a solid fisherman (no worms are allowed on the boat this year). Congrats Haley!

Haley Ravndalen – Grade 9
Hometown: Prior Lake, MN
High School: Lakeville South
Jersey Number: 6
Stick: Bauer Supreme Total One
Favorite NHL Player:Zach Parise
Favorite NHL Team: MN Wild
Position: Left Wing
This season was pretty good at Lakeville South High School. Playing both Varsity and JV–it was a fun and hardworking season. We also got our new head coach Natalie Darwitz which was a great experience. Our team this year made it to the section finals. Overall, the journey of our season was amazing.
RinkRat 19 has always been one of my favorite camps to go to. Its so much fun and I have made many new friends there too! I have always looked up to Gigi as a person and hockey player, so it is so much fun to take a road trip up to Warroad and spend time with her and the other coaches. I have made many memories there that I will never forget!
Mar
1
The month of March is upon us! You know what that means…it's almost my birthday and yes presents are encouraged! But seriously, the 1st of March means that a new RinkRat 19 camper must be featured. Today's column is dedicated to a Hockeytown, USA, kid by the name of Sara Baumann.
Working with kids like Sara is the reason that I love what I do. Instructing young players who are eager to learn is an awesome situation to be in. Every day Sara listens attentively to the coaches, applies herself, and desires to become better. She's kind, compassionate, respectful, and quick to smile. That smile stays put even while running stairs in The Gardens. She effortlessly covers the ice with her smooth stride and is a staple for powerskating demonstrations. Thanks for reading and I'll pass it over to Sara…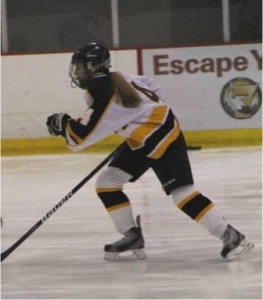 Sara Baumann -Warroad Minnesota
Jersey #: 4
Stick: Bauer Supreme TOTAL ONE
Position: Left Wing (or wherever needed)
Fav Player: Gigi Marvin, because she played for Warroad High School, was Ms. Hockey, and was a 2010 Olympic Silver Medalist. Also Karley Sylvester, because she played for Warroad High School and was Ms. Hockey in 2011.
Fav College Team: Sioux (but I like to watch the Gophers, too)
This season our 14UA record is 15 wins and 18 losses. We only have 11 players this year (10 skaters and 1 goalie), but we have been playing hard all year. Our next games are in the regional tournament on March 2nd, 3rd, and 4th, so hopefully we can do good in that. I love hockey (even the 6:30 morning practices), so it is fun living in Warroad (Hockey Town U.S.A.) and being on the ice a lot of the time. It is so much fun playing in games and getting up early in the morning and heading out to play a couple games on the road or a tournament. Our high school girls have made it down to the state tournament for the past 4 years, so it is fun to go and cheer on them, too.
The Rink Rat 19 camps have been a very fun experience, and have helped me become a better player, with the on ice drills and skating, and the dry land drills. It is fun to go there each year and learn something every day. It is also very cool getting advice from and being in a camp with Gigi Marvin. I am excited to go again this summer!
-Sara Baumann
Feb
1
I'm excited to announce that Cheyenne Harris is the first person to be recognized in the RinkRat 19 Camper Feature! Each month, one past RinkRat 19 camper will be highlighted.
Chey first pulled on the RinkRat 19 jersey a few summers ago. She's an amazing skater just bursting with talent and enthusiasm. Our powerskating drills are unique, difficult, and point out skaters' strengths and weaknesses. When I ramped up drill intensity the second day of camp, I was amazed with Chey's execution. After asking if she'd done them before, Chey smiled and replied "I've never seen anyone do these crazy drills before." In addition to her phenomenal hockey skills, a slew of adjectives can be used to describe her character: determined, encouraging, passionate, joyful, outgoing. So thanks for reading and I'll let Chey take it from here…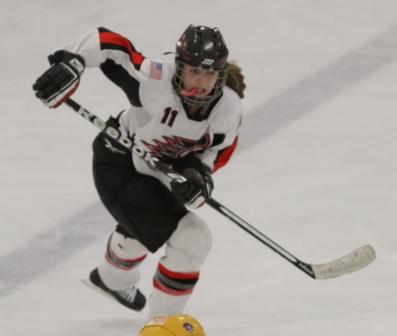 Name: Cheyenne Harris
Jersey #: 11
Stick: Bauer APX-p14
Position: Center
Favorite NHL Player: Patrick Kane
Favorite NHL Team: Pittsburgh penguins
Favorite athlete: Kyle Rau (: So Hot! and Gigi Marvin of course.
Favorite camp memory- I have a lot of favorite memories. My favorite thing to do on the ice is summer salt relay-races (: I think the first time I went to the camp was one of my favorite memory because I was so excited to go and skate with Gigi Marvin, and I was also a little scared that it was going to be a super super hard camp, but it wasn't at all! It is hard work and conditioning mixed in with a lot of fun. The first time we did dizzy cones was a sight to see. Or the first time we did backwards jumps. (: I honestly can't pick out one favorite memory, but one that has impacted my life to this day is when my dad and I met Gigi. We both have become so close to her and I am grateful as she has helped me so much throughout the years. She has had a big impact on me and the way I learn and play the game. Motivating me and showing me the determination it takes to get better and better every year. Gigi has so much experience and she is always willing to share with players like me. She tries so hard to make hockey a better and closer community and she does a great job! I am lucky to have had the opportunity to meet her, skate with her, and become great friends.
As far as how this season is going, I would say we are doing well. We are ranked 8th in the state and are coming close to the district tournament, then regions and hopefully, if we make it through, on to state. Our team is finally starting to play together and work for each other. We won the cake eater tournament this year which is the first time a Centennial girls team has ever done that, I am very proud of our team for that one.
Sincerely,
Cheyenne Harris
Centennial 14U A
Go Cougars!!!
Jan
18
December 31, 2011 marked the 1st annual "Skate into the New Year's" event for RinkRat 19.  We are used to skating for hours at a time over Christmas break in Hockeytown, USA.  Whether it's in the Gardens, Olympic, outdoor rink, or on the frozen lake next to the ice fishing house; we always took advantage of the available ice time.  So this event was created to bring a some of that Warroad mystique to the cities.  We opened the Drake arena doors and invited all past campers to skate for free.  No rules, no drills, no coaches.  Hockey in its purest form…rinkrat hockey!  It was a great way to celebrate another year of  RinkRat 19 Hockey Schools!
Rachel and Marissa brought their buddies and might have earned first star.  Sophia was the only one in her family of 5 to show up…we know who the true RinkRat 19 kid is in that family.   Katie, Jack, and Enya traveled all the way from Wisconsin to skate with us.  It was a fantastic turnout and the kids were blessed with a special guest:  Caitlin Cahow.  She's a 2 time Olympian, 4-time World Champion, and All-American defensemen out of Harvard.  Thanks to Caitlin for skating with the RinkRat 19 team!
Dec
14
December 31, 2011 (St. Paul, MN)
What: All RinkRat 19 campers are invited to skate with Robin, Gigi, Murray, Caitlin Cahow (2-time Olympian), and past collegiate coaches
When: 4-6pm
Where: Drake Arena, St. Paul
FYI: bring full gear, smiles, and it's free!
July 8-12, 2012 (Warroad, MN)
5th annual RinkRat 19 Hockey School
July 2012 (St. Paul, MN)
3rd annual RinkRat 19 Hockey School
Nov
29
| | Shooting Accuracy | Coachable | RinkRat |
| --- | --- | --- | --- |
| Little Campers | Katierie Sandy | Cameron Heppner | Carson Pilgrim |
| Group A | Ally Hippen | Kate Helgeson | Trechelle Bunn |
| Group B | Katie Pogue | Kelsey Olsen | Sierra Anderson |