Trechelle Bunn is recognized as the camper of the month for May 2012. Trechelle (and her huge smile) has been a constant at RinkRat 19 Hockey School. A fun fact: she lives in Canada but cheers for Team USA…thanks for following our team and cheering us on!!! Trechelle is such a kind, cheerful kid to be around and has improved tremendously every summer. Last year she took home the RinkRat 19 award for embodying the meaning of "rinkrat." Enjoy getting to know the May 2012 RinkRat 19 camper of the month!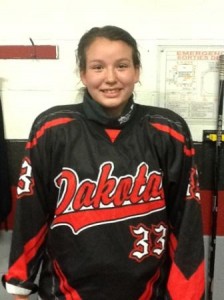 Name: Trechelle Bunn
Favorite Hockey Team: The Winnipeg Jets
Favorite Hockey player: Dustin Byfuglien
Stick: Reebok 12K stick, left
Position: Defense
In the London Olympics I look forward to watching Usian Bolt because I run the 100m and 200m and never lost a track meet!!!!
I was born in Roseau Minnesota but live in Wampum, Manitoba, Canada, and go to school in Sprague, Manitoba, Canada!!!
My dream is to play in the Olympics one day for Team USA like Gigi!!
In the Summer I enjoy doing the Lamplighter fill the net challenge, Swimming and doing Triathlons!!
For the Stanley Cup I am going for the New Jersey Devils!
This year I played my first year of 12U with Warroad 12U.
One of my favorite camp memories was getting the RinkRat award and believe it or not doing stairs!!!
My hockey number this year was #3 but usually I prefer #33 because of Byfuglien and because I was born on March 3rd!
I've been skating since I was 2 years old and I started playing hockey when I was 6 Years old so I've been playing hockey for 6 Years!!
And this year I played In the Manitoba Indigenous Games!!
I also played spring Hockey this year with the Sioux Valley Dakotas!