June recognizes Marietta Geist as the RinkRat 19 Hockey School camper of the month. How awesome is her bio! Pianist, track star, swimmer, and a wiz with the numbers. I think it's amazing when kids are blessed with so many talents and put them all to use. Instead of focusing on a sole activity, she's thriving in many. Making the most of every opportunity is clearly a great trait of Marietta's. Each year she has done a fantastic job of applying what she's learned from the RinkRat 19 staff to her own game. Her growth as a hockey player has been great to witness. Have a great day and check out Marietta's story: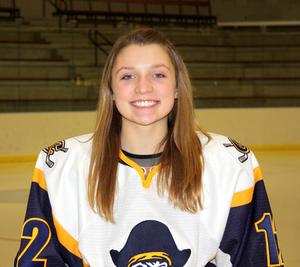 Jersey # – 12
Favorite hockey player – Wayne Gretzky
Stick – Bauer Vapor 60 extreme
2012 Olympics – I'm looking forward to watching the Olympic track and swimming events this summer
Other fun facts – I enjoy playing the piano, track, math, and swimming. I have participated in the state piano competition, state Math Counts competition, and the 2012 state class A track meet where I placed 8th in the 1600 meter run.
I have been to the RinkRat 19 camp for 3 years and I really enjoy it. It's fun coming back and seeing friends from past years at camp and making new ones. I love coming to Warroad every summer and having a whole week set aside just for playing hockey. The coaches work us hard and make camp fun. I've learned lots at Rink Rat 19 and I can't wait to learn more.
This was my first year playing on the varsity team for Crookston. We were a young team with several 8th graders playing on the team and it was a building year for us. I'm looking forward to next year when we all will have a little more experience under our belts.
Thanks,
Marietta Geist