The month of March is upon us! You know what that means…it's almost my birthday and yes presents are encouraged! But seriously, the 1st of March means that a new RinkRat 19 camper must be featured. Today's column is dedicated to a Hockeytown, USA, kid by the name of Sara Baumann.
Working with kids like Sara is the reason that I love what I do. Instructing young players who are eager to learn is an awesome situation to be in. Every day Sara listens attentively to the coaches, applies herself, and desires to become better. She's kind, compassionate, respectful, and quick to smile. That smile stays put even while running stairs in The Gardens. She effortlessly covers the ice with her smooth stride and is a staple for powerskating demonstrations. Thanks for reading and I'll pass it over to Sara…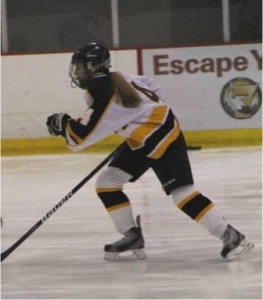 Sara Baumann -Warroad Minnesota
Jersey #: 4
Stick: Bauer Supreme TOTAL ONE
Position: Left Wing (or wherever needed)
Fav Player: Gigi Marvin, because she played for Warroad High School, was Ms. Hockey, and was a 2010 Olympic Silver Medalist. Also Karley Sylvester, because she played for Warroad High School and was Ms. Hockey in 2011.
Fav College Team: Sioux (but I like to watch the Gophers, too)
This season our 14UA record is 15 wins and 18 losses. We only have 11 players this year (10 skaters and 1 goalie), but we have been playing hard all year. Our next games are in the regional tournament on March 2nd, 3rd, and 4th, so hopefully we can do good in that. I love hockey (even the 6:30 morning practices), so it is fun living in Warroad (Hockey Town U.S.A.) and being on the ice a lot of the time. It is so much fun playing in games and getting up early in the morning and heading out to play a couple games on the road or a tournament. Our high school girls have made it down to the state tournament for the past 4 years, so it is fun to go and cheer on them, too.
The Rink Rat 19 camps have been a very fun experience, and have helped me become a better player, with the on ice drills and skating, and the dry land drills. It is fun to go there each year and learn something every day. It is also very cool getting advice from and being in a camp with Gigi Marvin. I am excited to go again this summer!
-Sara Baumann