Sep
27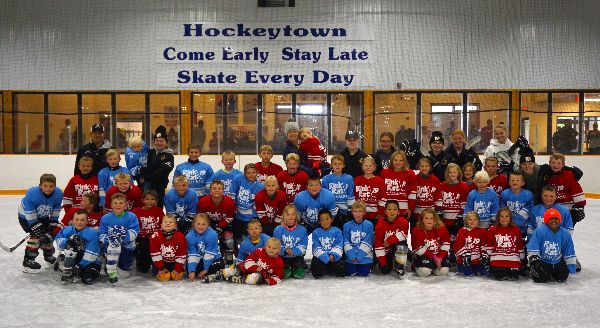 The 12th summer of RinkRat 19 Hockey School (RR19HS) was amazing!!! I wish I could slow down time because those two weeks in July go by way too fast.
The 2019 edition of RR19HS had 204 kids from across 10 US states (IA, IL, MI, MN, MO, ND, SD, TX, WI, WY) and 1 Canadian province (ON). We had our first ever campers from the states of Missouri and Texas this year! It's incredible to see how a small town in Northern Minnesota is attracting kids from across North America. I'm extremely grateful to those who travelled from near and far to spend their time with us at RR19HS!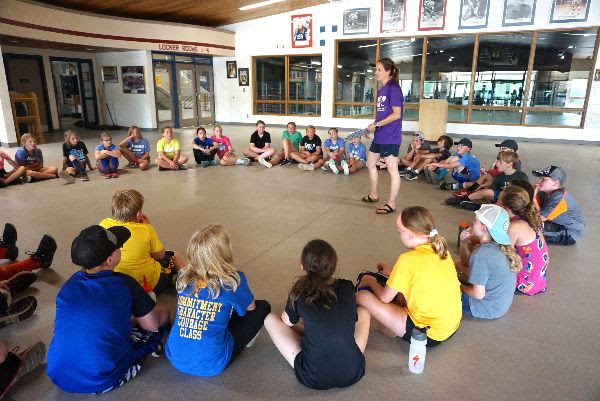 A new addition to the camp's curriculum this summer were daily Team Building sessions. These times created a space where the kids can build relational skills and discuss various topics such as mental wellness, the value of each person and how to positively respond to failure. Each Team Building started with a discussion between the coaches and campers about the set topic and then we played an interactive game designed to implement the skills we just discussed. It was powerful listening to some of the examples the kids shared and the coaches loved watching the campers develop skills that will greatly impact them in years to come.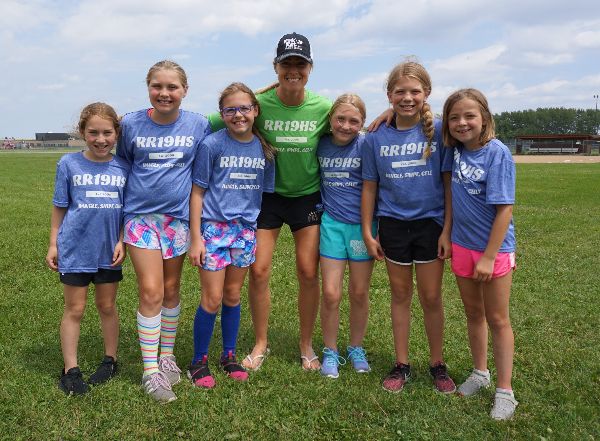 One memorable moment at RR19HS included the longest ever 1v1 full ice battle I've ever witnessed. The game is called Marathon Hockey and it pits one player vs another. Whoever scores comes back in line and the loser takes a knee to cheer the remaining players. It's a full ice 1v1 so whoever the last two players are, they've already skated up and down the ice many times! Finally, the competition narrowed down to Ricky and Shay for the championship. Back and forth each kid skated only to be either stripped of the puck or denied by the goalies. As exhausted as they were, neither gave up and furiously back checked the other player each time. (What made this even more epic was the massive thunderstorm happening outside. Rain was pounding on the roof and many kids were convinced that the thunder was shaking the arena). After what seemed like an eternity, Shay buried a breakaway goal to seal the title of Marathon Hockey Champion. Everyone erupted and congratulated both kids because of their tireless work ethic.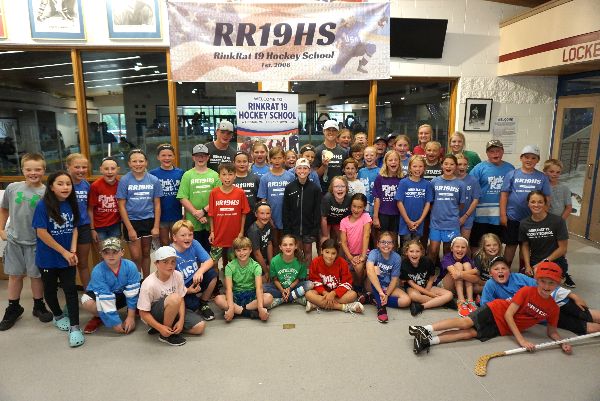 Other fun highlights: Levi and Amelia crushed the dryland competitions, Brookston kindly hooked up the coaches with some cookies from the snack shack, Mari's profound comments at Faith and Hockey night, and Willis' hilarious celebration after his slam dunk to give Team Red the win in Trash Ball.
Thanks again to everyone involved in making RR19HS a huge success and I look forward to skating with you at next year's camp!
God bless,
Gigi
Feb
28
Born into a hockey family and raised in Hockeytown USA, Gigi was a dominant force on the ice starting at a very young age.  She was a leader for the Warroad Warriors, not just in points but also with her encouraging spirit and positive attitude.  She took her talent for the game and heart of a leader with her to college where she became a co-captain in her senior year.  Her career continued into the CWHL and NWHL where she has won championships in both professional leagues.  Fast forward a few years, she played in three Olympics and has won a gold medal and two silver ones, too.  But what truly sets her apart is her character and heart of gold.  The accolades are endless but there's more to Gigi than her incredible skill and achievements.
Check out these articles that highlight what makes Gigi shine brightly amongst some of the greatest hockey stars:
Grand Forks Herald – The oldest member of USA's gold-winning hockey team, Gigi Marvin, still going strong in NWHL
Twin Cities Pioneer Press – Among Warroad's many hockey stars, Gigi Marvin shines bright
Feb
19
Photo Credit: NWHL
Gigi Shines in Her 3rd NWHL All Star Weekend
The 2019 NWHL All Stars made history as they played in front of a record crowd of 6,120 fans in Nashville at the beginning of this month!  Gigi had an assist on her team's first goal but they lost the All-Star Game 3-2 in a shootout.  The Skills Competition is always one of Gigi's favorite events and she was selected for the Trick Shot Competition.  She pulled out a couple new moves to the delight of her teammates and fans!  The first breakaway she put her stick between her legs, picked the puck up on her blade, and then twirled the puck around in a circle with one hand before she shot.  In Gigi's final trick shot attempt, she put her stick behind her back, flipped the puck in the air and juggled it with one hand on her stick before batting the puck out of the air towards the net.
Click the link to read highlights from the All Star weekend.
Photo Credit: Matthew Raney
USA vs. Canada Rivalry Continues!
Over this past week, Gigi and Team USA competed in a three-game series against their Canadian rivals.  The matches between USA and Canada always bring the audience to the edge of their seat, and these matches were no different.  The Americans started off the series with a 1-0 shutout win in front of a packed arena of 9,034 people in London, Ontario.  But the Canadians came back on Thursday (4-3) and Sunday (2-0) as they took the final two games of the Rivalry Series.
Immediately after her USA game in Detroit, Gigi flew to N.J. to join her Boston Pride teammates in a game vs. the Metropolitan Riveters.  The Pride won 8-1 and Gigi had two goals and one assist.
Jan
24
We hope you had a wonderful Christmas season and have started off the new year well!  We are grateful for the memories we share and look forward to making many more with you at RinkRat 19 Hockey School.  We wish you a happy, healthy, and joy filled new year!
Keeping Up with Gigi and the NWHL
Gigi re-signed with the Boston Pride for her third season with the Pack and they currently are 8-3 with about six weeks remaining in the regular season.
In December, Gigi won the NWHL Player of the Week with her 5 point weekend against the Minnesota Whitecaps (read the article here: link)
Shortly after this series sweep, the league announced the rosters for the upcoming NWHL All Star game and Gigi will be competing in her third All Star game!  The All Star weekend is just two weeks away so be sure to cheer for Gigi and her team.
Aug
21

2018 Recap
The 11th summer of RinkRat 19 Hockey School was GOLDEN!  I was able to share my Olympic Gold medal withall of the campers and families.  The 2018 Olympic Gold medal game was an unforgettable one for Team USA, so it's a joy to be able to celebrate with all who attended camp.
Over the two weeks of RR19HS, there were 183 kids from across 9 US states (IA, MN, MT, ND, PA, SD, WA, WI, and WY), 2 Canadian provinces (MB, ON), and 1 non-North American country (UAE).  Yes, you read that correctly…there was one camper from Dubai, United Arab Emirates.  DUBAI.  Not only was she an amazing kid and great skater, but she made me a personalized Team Dubai jersey with 19 on the back and Marvin written in Arabic (photo below)!!!  It's incredible to see how a small town in Northern Minnesota is attracting kids from across North America and now expanding into other parts of the world.  I'm extremely grateful for those who travelled from near and far to spend their time with us at RR19HS!!!
The entire staff needs a massive round of applause!  For the first time in 11 years I had to miss a day of camp due to my obligations with Team USA, but the RR19HS staff did a phenomenal job while I was gone.  My teammates and I were invited to the ESPY Awards Show in Los Angeles and it was a huge honor to attend this event.  We won the 2018 Humanitarian Award and then the ESPY for Best Game!  It was such a cool experience and moment for our team.  So after four plane rides, four hours driving, and one hour of sleep, I arrived back in Hockeytown, USA, to finish the last day of hockey camp and celebrate with the campers!
It seems like the youngest skaters are always involved in the most memorable moments at RR19HS and this year was no exception.  One highlight was when I was describing a drill to the Little Camper group and suddenly I looked behind me and saw Owen (4) on his back making a snow angel and Ava (3) on her knees scooping snow into a snowball so she could eat it!  🙂  What a priceless moment it was and also a reminder to us all that the most important thing is to have fun on the ice!
Thanks again to everyone involved in making this camp a huge success.  Enjoy the rest of your summer and I look forward to skating with you at next year's camp!  2019 dates will be announced soon so look out for that email!
God bless,
Gigi
May
30
Former RR19HS coach Sidney Peters, won this outstanding award because of her dedication to serving and giving selflessly to the community.  Obviously Sidney had a stellar on-ice resume but she also had 800 volunteer hours throughout her Gopher career!!!  Her passion for serving others is motivated by her faith in Jesus Christ.  Sidney has used her medical skills and expertise to leave a lasting impact by improving health care both locally and internationally.  It is evident that Sidney has deeply impacted many both on and off the ice as she has given her heart and time to serve and love the people in these communities.
Coach Sidney is an inspiration to all of us at RinkRat 19 Hockey School and we are proud of her achievement!  Congratulations to Sidney Peters on receiving the Hockey Humanitarian Award!
Apr
30
Celebrating RR19HS Campers!
50 years after the Warroad PeeWees (coached by Cal Marvin) won third place in the state tourney, the 2018 PeeWee As have become state champions!  Many friends and families came together to cheer, and it was an awesome time of celebration for Hockeytown, USA!  Congratulations to RR19HS campers Cahlilah, Murray, Erick, Sophie, Iver, Jayson, Carson, and Will.
RR19HS celebrates with former camper Maggie Hanzel (Rochester, MN) and her commitment to play Division I hockey at Boston University in 2021!  Maggie (pictured on left) had a strong presence as a camper both on and off the ice, and we are excited for her future endeavors. Congratulations, Maggie!
In Memory of RR19HS Coach Andrew Carroll
We are sad to share the news of Andrew Carroll's passing.  Andrew was more than just a coach at RinkRat 19 Hockey School–he was a friend, a mentor, and a role model.  He came to the rink early and stayed late to skate with campers.  He was always full of joy and loved the campers well.  As we mourn this loss, we are comforted knowing that he is resting in peace with Jesus.
Mar
30
The 2018 PyeongChang Olympic Games were filled with riveting matches, top notch competition, inspiration stories, and heart-moving moments.  Of all the events, the USA vs Canada game was a favorite for us at RinkRat 19 Hockey School.  The only time the US Women's Team brought home gold was back in 1998 and the 2018 team were determined to break Canada's winning streak.  In the most captivating match between the biggest of rivals in women's hockey, Team USA came out on top in the shootout to bring home the gold!!!  For those at the arena and for everyone watching from their TV screens, it was one of those games that had you at the edge of your seat the whole time.  The tremendous victory and post-game celebrations measured up to the hype leading up to the match – what a tremendous feat for these 23 women!
Gigi Marvin is a 3-Time Olympian with one gold medal (PyeongChang 2018) and two silver medals (Sochi 2014, Vancouver 2010).  Gigi tallied a total of 4 points in this Olympics, scoring three goals and one assist.  For those of you that missed the gold medal game, you can find a recap here: NBC Olympics
Another special moment for RR19HS at the 2018 Winter Olympics was having former coach, Sidney Morin, also on Team USA!
Photo Credit: TeamUSA.org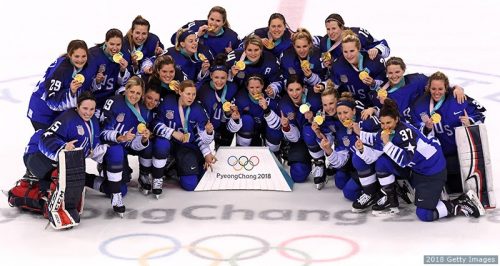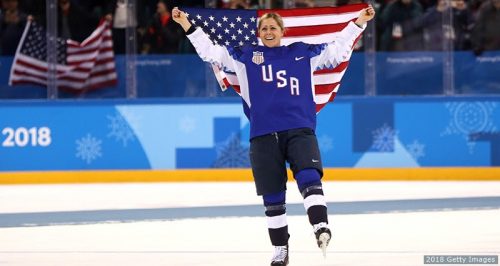 Jun
9
RinkRat 19 Hockey School's very own Gigi Marvin is headed to her third Olympics!!!  Forty-two players participated in the 2017 US Women's National Team Selection Camp in Tampa, Florida, from April 29-May 4.  RR19HS alum Shelby Amsley-Benzie and former coach Sidney Morin were among the selection camp players.  After a week of testing, practices, and three inter-squad games, they announced the final roster of the 23 players who will represent Team USA in the 2018 PyeongChang Olympics.  You can check out the full roster here: USA Hockey
Apr
18