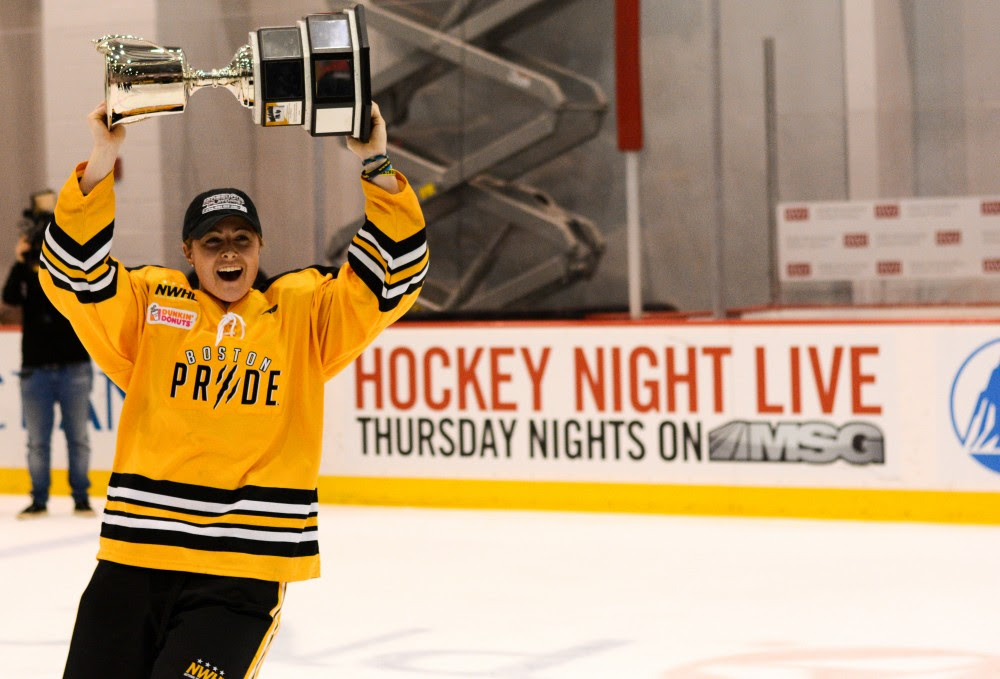 The Boston Pride Win the Isobel Cup!
On Saturday, March 12, 2016, Gigi Marvin and the Boston Pride made history, winning the first ever Isobel Cup!  The Pride had a nine game winning streak leading up to the Isobel Cup Playoffs hosted at the Prudential Center practice facility in Newark, NJ.  Though their opponents fought hard, the Pride finished it off strong by sweeping the Buffalo Beauts their best of three series.  There is no doubt that the 2015-2016 season of the NWHL will remain a milestone in history and we are already looking forward to next season!  Congratulations to the Boston Pride for an incredible season, winning the cup, and a special shoutout to Gigi on being awarded as the NWHL Best Defenseman (www.nwhl.co)!
(Photo Credit: www.todaysslapshot.com)
Gopher Women's Hockey Wins 7th NCAA Title!
One weekend after the Pride took the Isobel Cup, the Minnesota Gophers women's hockey team beat the previously undefeated Boston College in the Frozen Four to win the NCAA Championship!  Not only did the Gophers win back to back NCAA titles, this victory is their fourth title in five years and 7th overall.  We are especially proud of our four RR19HS coaches:  Hannah Brandt, Milica McMillen, Sidney Peters, and Lee Stecklein.  GO GOPHERS!!!
(Photo Credit: www.gettyimages.com)