RinkRat 19 Hockey School Staff: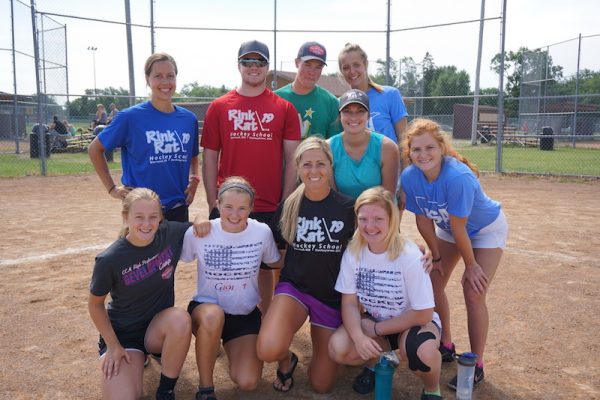 Gigi Marvin – Team USA, U of M '09, Warroad High School '05
Check out her bio on the "Gigi" page.
Milica McMillan – Team USA, U of M '16, Breck High School '12
Milica is a stellar All-American defenseman for the Golden Gophers with a passion for movies, Spiderman, and Jesus.  She finished her collegiate career with an impressive 120 points, multiple accolades, and three national championships!
Sarah Erickson – U of M '12, Bemidji High School '08
Sarah is a wife, mom, coach, business owner, fisherwoman, and has the nastiest wrist shot in hockey.  She won a national championship at the U and won gold medals with the U-18 and senior National teams.  A smile is constantly plastered on her face and she can't get enough fishing, hunting, waterskiing, and bonfires on the big Lake.
Lynn Astrup – UMD '18, Warroad High School '14
Lynn won multiple state championships with the Warroad Warriors and holds the MN state record for best championship game goal celebration.  She attended the inaugural RR19HS as a camper and she's back as a coach.
Parker Orchard – NA3HL, Warroad High School '17
Parker was the starting goalie for the Warroad boys varsity team and has played the past couple years in juniors  He's a fantastic coach who does a great job training young goaltenders.
Chong Vang – Level 3 Referee and youth hockey coach
Chong has been reffing all levels of hockey for the past 16 years.  He has a great knowledge of the game and enjoys helping kids develop their skills.
Layla Marvin – UND '15, Warroad High School '11
Layla captained the Fighting Sioux to an 18-12-5 record and a spot in the WCHA Conference Tournament.  UND was 11-1-2 when Layla scored a point and was a named to multiple WCHA All-Academic Teams.  When she's not at the rink, you can catch Layla working at Izzy's or fishing at the Angle.
Lisa Marvin – UND '16, Warroad High School '13